It's summer, and in Northern Virginia, that means it's H-O-T outside. The good news is there's no shortage of ice cream places in Gainesville/Haymarket/Bristow to go to cool off! Here are some of my favorites.
Local Ice Cream Spots
Cookies & Cream – Voted best ice cream in Haymarket/Gainesville, Cookies & Cream is not only a great place for ice cream, but also custom cookies and specialty drinks and sodas. Have a birthday or other special event coming up? You can also book a party there. Cookies & Cream is located at14600 Washington Street in Haymarket and is open on Wednesday through Sunday from 3 p.m. to 9 p.m.
Cold Stone Creamery – Cold Stone Creamery is a truly unique experience, as the ice cream is prepared on a frozen granite stone. There's an endless amount of candy and other toppings you can have mixed in with your ice cream. Choose from unique ice cream flavors like cake batter, cheesecake and peanut butter cookie dough. Cold Stone ice cream also comes in three uniquely named sizes, Like It® (small), Love It® (medium) and Gotta Have It® (large). Cold Stone Creamery is located at 7372 Atlas Walk Way, Ste F-2 in Gainesville. It's open Sunday through Thursday from 11 a.m. – 10 p.m. and Friday and Saturday from 11 a.m. – 10:30 p.m.
Nathan's Dairy Bar – This is another local favorite for soft-serve ice cream and sherbet. Nathan's is open seasonally from March until the day of the Manassas Christmas parade, which is the first Saturday of December. Nathan's is very involved in the community with cancer research, local nursing homes and anything to do with dogs. Nathan's is located at 8948 Mathis Avenue in Manassas and is open every day from 11 a.m. to 10 p.m.
Swirlies Soft-Serve – Swirlies is another seasonal ice cream stand open from March 1 to November 1.  Get delicious vanilla or chocolate soft-serve ice cream with your choice of flavors mixed in. Swirlies is located at 9901 Pennsylvania Avenue in Manassas and is open from 11 a.m. to 11 p.m.
sweetFrog – sweetFrog is delicious frozen yogurt in a variety of flavors that you can mix together if you like. A large variety of toppings are available as well. sweetFrog is located at 11648 Sudley Manor Drive in Manassas. It's open Sunday through Thursday from 12 p.m. to 9 p.m. and Friday and Saturday from 12 p.m. to 9:30 p.m.
Jitterbugs Ice Cream Café – This shop is located right in Historic Manassas at 9125 Center Street. It's open from 12 p.m. to 9 p.m. on Saturday, 2 p.m. to 7 p.m. on Sunday and 3 p.m. to 8 p.m. Tuesday, Wednesday and Thursday.
Ice Cream Tidbits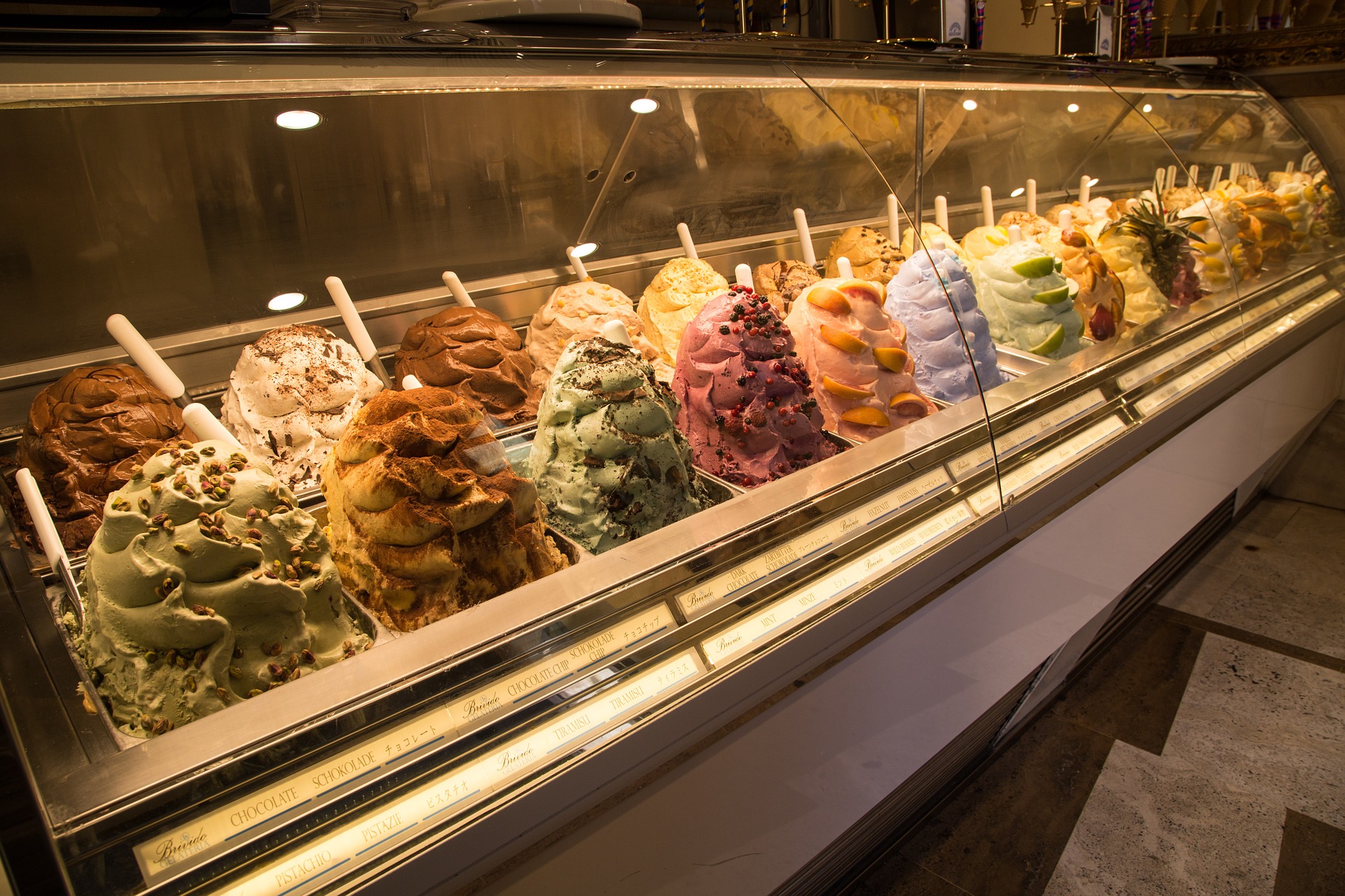 Possibly, the only thing better than ice cream is great family conversation. Share these tidbits with your family over your next cup or cone!
President George Washington spent roughly $200 on ice cream throughout the summer of 1790. In today's dollars, that's over $5,000!
Professional ice cream tasters take it very seriously when tasting a new flavor; they use golden spoons, so the metal doesn't impact the taste of the ice cream.
It takes approximately 50 licks to finish an average ice cream cone.
It takes an impressive 12 gallons of milk to make just one gallon of ice cream.
There is a scientific reason that you can get an ice cream headache, also known as brain freeze. When something frozen touches the roof of your mouth, it makes the blood vessels tense up. This is what causes brain freeze.
There are believed to be over 1000 ice cream flavors in the world!
Looking for real estate services in Gainesville, Haymarket or Bristow? Contact your local real estate expert Belinda Jacobson-Loehle of Jacobson Realty and Home Staging In Gainesville, Virginia today. Also be sure to sign up now for a FREE copy of my eBook, "The Real Estate Key – What You Need to Know!"
1,786 total views, 2 views today