It's a new year, and you've probably made some personal New Year's resolutions, like losing weight or getting organized, but what about for your home? Like you, your home could benefit from a fresh start to the year. Here are some ideas and tips for breathing new life into your living space.
Consider Downsizing
There are lots of reasons to downsize. Maybe you've recently become an empty nester, you've recently moved into a smaller space or you want less upkeep to deal with. The most common reason is you just have too much stuff. Try these tips to help simplify your living space.
Think about large items first like furniture, china sets, even that extra car. Are you holding on to some of these items for sentimental reasons, or can you gift them or sell them? If you keep them, do you have space for them? The same goes for your craft, sewing or hobby room. Do you have enough space for all of your possessions? If not, consider what needs to go.
Life Storage Blog recommends using the Four-Pile Sorting System for downsizing. One pile is for things you intend to give away to friends or family. One pile is for donations. One pile is for stuff you intend to sell, and the last pile is for anything you plan to throw away.
Next, go through spaces in your home that don't see much use such as the basement or attic, spare bedrooms, closets and the garage. These spaces likely contain items that are unused and can be tossed or sold.
Finally, go through each room one by one and start taking a look at the smaller items, like your child's artwork or papers that may be sentimental. You may find that you just can't part with some of these things. If so, Gretchen Rubin has an idea for storing them.
A Fresh Coat of Paint
Over the past year, your walls may have taken some damage, especially if you have children. It might be time to repaint. You could hire someone, or if you need to save money, here are some tips for doing it yourself.
Mix multiple cans of paint into a large bucket for consistent color throughout the room.
Paint the trim first, then the ceiling and then the walls.
If you have wall patches, it's best to prime first to avoid a blotchy finish.
Clean dirty surfaces before you paint so the paint can form a bond.
Use cotton drop cloths on the floor instead of plastic. They're not slippery and stay in place better.
New Furniture Arrangements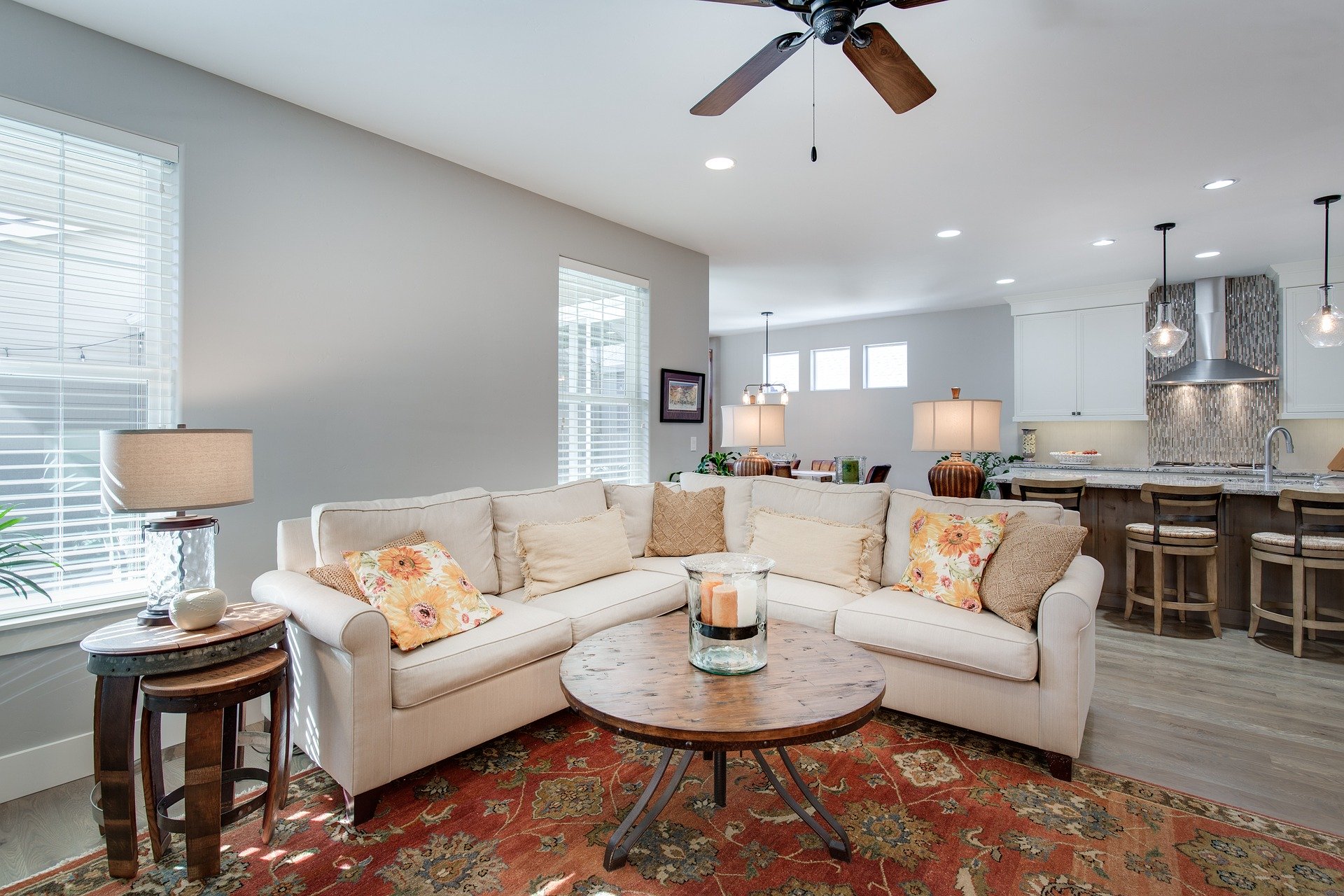 The way you place the furniture in a room is critical to the feel and functionality of the room. First, you need to determine what your focal point is, such as a large window or a fireplace. You may have to create one, such as an entertainment unit. Once you determine the focal point, you can arrange the furniture around it.
It's tempting to push furniture against the walls, especially if the room is small, but it's best to give your furniture a little bit of breathing space. This will actually make the room feel bigger. If you have a larger room, you can create conversation areas by pulling the furniture a few feet away from the walls. Place sofas and chairs facing each other and close enough that people can talk without having to raise their voices. If you have a really large room, you can create multiple conversation areas.
Consider traffic flow when placing furniture. Make sure there are a couple of feet between the coffee table and chairs. You should be able to cross from one end of the room to the other without bumping into furniture or other people in the room.
If you use area rugs in the room, make sure the rug is big enough to go under at least the front feet of all the big pieces of furniture in a conversation area.
Side tables and coffee tables are important, so that no matter where your guests are seated, they have somewhere to put down their drinks. Side tables should be the same height as the arms of the chairs, and coffee tables should be the same height at the sofa.
I hope these tips will breathe some fresh air into your space. And as always, when you are ready to buy, sell, upsize or downsize, I'm always here to help you from beginning to end.
Looking for real estate services in Gainesville, Haymarket or Bristow? Contact your local real estate expert Belinda Jacobson-Loehle of Jacobson Realty and Home Staging today. Also be sure to sign up now for a FREE copy of my eBook, "The Real Estate Key – What You Need to Know!"
448 total views, 1 views today