With the current pandemic, most of us are spending a lot more time at home, and it's also summer, so that means more time outdoors. Many people are also turning their backyard into their own little paradise. Why not do the same? If you already have a patio or deck, there are things you can do to enhance that space and make it more enjoyable. Even if you don't, adding a waterfall or a garden to your backyard can make it a respite for you and your family.
Remember, if you live in a community with a homeowners association, check the association's guidelines for what you can do in your neighborhood, and always get your HOAs approval before beginning a project.
Ways to Turn Your Backyard Into an Oasis
These ideas from HOUSEtipster are a good start to turning your backyard into your private escape.
Build a Water Feature – You can go as simple or elaborate as you want or your budget allows with your water feature. Set up a fountain with a decorative pot or carve a spot into your backyard for a small garden waterfall. If you need ideas on how to build a waterfall, HOUSEtipster has created this handy guide.
Add Containers to Your Deck or Patio – One way to add an interesting focal point to your outdoor space is by planting a variety of plants in decorative containers of different sizes.
Plant Color – You can turn your backyard into a tropical paradise by planting tropical plants, flowering vines and annuals, but don't forget foliage. The foliage will ensure that your backyard space will still have eye appeal once the flowers are done blooming.
Install a Spa or Hot Tub – Ahh! Who doesn't love the relaxing feel of warm, bubbly water all around you? This is a luxury you usually only get on vacation, but you can add a hot tub to your deck or patio and experience luxury right in your own backyard. To make the space even more inviting, add some greenery around your spa or hot tub.
Put Up a Hammock – Putting up a hammock in your yard is an easy and affordable way to turn your backyard into an oasis. Whether you intend to use it for reading or sleeping, a hammock is a great way to spend relaxing time outdoors.
More Tips for Creating a Backyard Oasis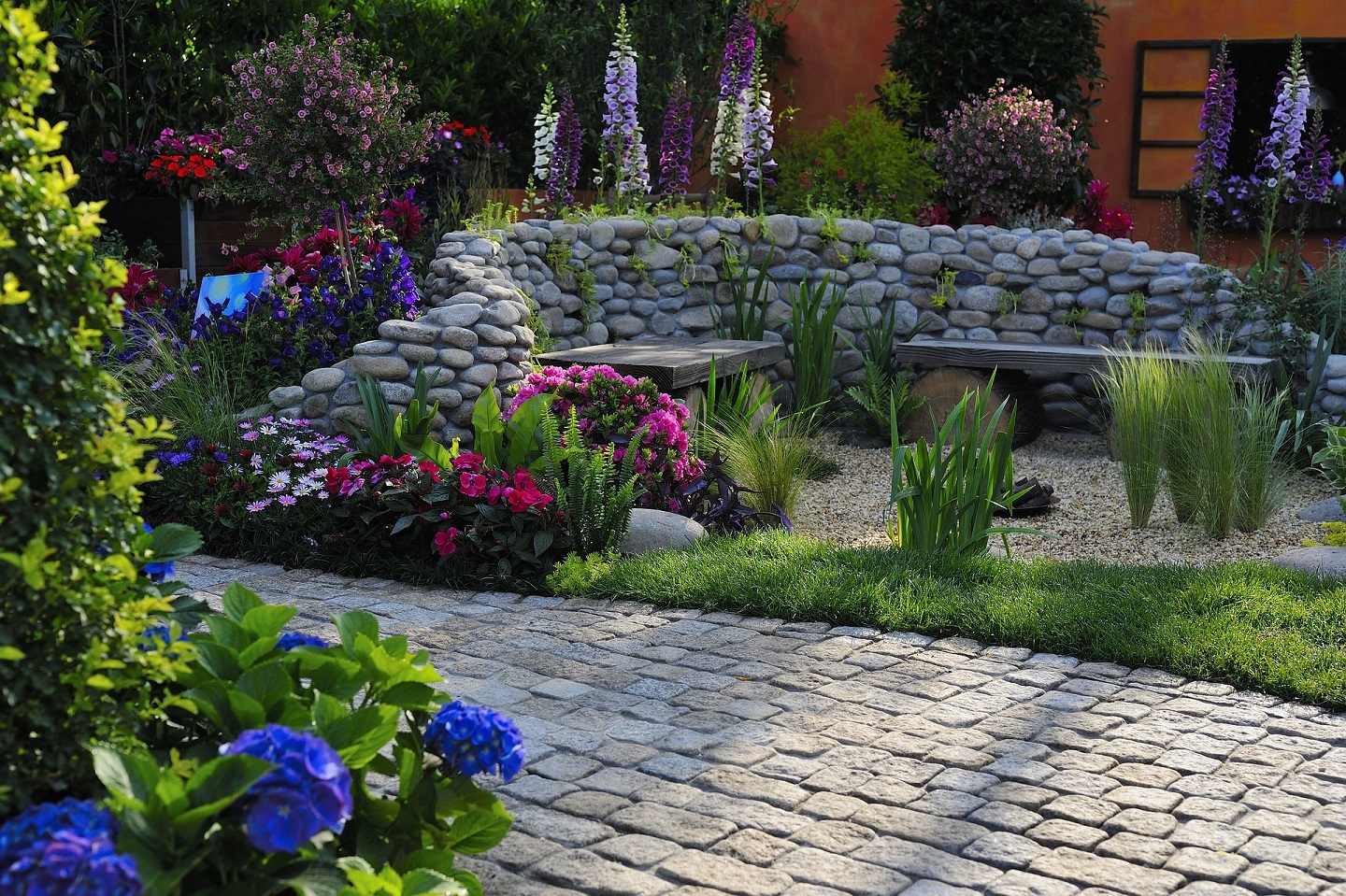 These tips from Better Homes & Gardens are also a great way to add functionality to your outdoor space.
Dress Up Your Deck – You can create different activity zones on your deck, such as a space for dining and a space for relaxing. Add a pergola with vines and put plants in containers to help your deck blend into the landscape.
Add a Garden – Adding planting beds around your deck or patio or container gardens on your deck or patio is another great way to enhance your backyard space.
Create Shade – During the warmest summer months, it's hard to sit outside without a little bit of shade. You can provide shade several ways. If you have a mature tree in your yard, that's a great spot for your backyard oasis. Other ways to provide shade include umbrellas, retractable awnings or an arbor planted with vines.
Decorate With Comfortable, Weatherproof Furniture – Of course, you're going to need somewhere to sit to enjoy your backyard space. Comfortable, colorful, weatherproof furniture will give your family a way to gather outside for a meal or just relax together. Wrought iron and wood furniture are the traditional options for outdoor furniture, but you can also opt for synthetic, weatherproof patio furniture.
Add a Gazebo – A gazebo is another luxury you can add to your backyard oasis. Gazebos provide perfect spots for meals and relaxing.
Add a Fireplace or Fire Pit – A fireplace can serve as the focal point for your outdoor space and can be the beginning of an outdoor kitchen. A fire pit can also be useful, serving as an ideal place for smaller gatherings, especially once the weather turns colder.
Turning your backyard into a place where your family and friends can enjoy some time outside, and possibly together, can be a worthwhile project in the long run.
Looking for real estate services in Gainesville, Haymarket or Bristow? Contact your local real estate expert Belinda Jacobson-Loehle of Jacobson Realty and Home Staging In Gainesville, Virginia today. Also be sure to sign up now for a FREE copy of my eBook, "The Real Estate Key – What You Need to Know!"
2,463 total views, 2 views today